A Typical Day at Homerton
Settling in on arrival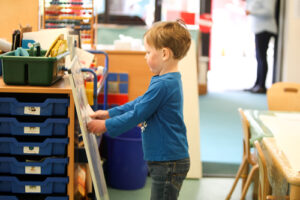 Children come into their classroom at the start of the day and say goodbye to whoever has brought them. If anyone is feeling at all unsure about saying goodbye, staff are always there with a smile and support to help them settle in. It can be a good time to pass on any brief information about your children that will help us e.g. if they have not slept well and might be tired or just catching us up on something new they are interested in so we can build this into our planning.
In the classroom children hang up their coats, wash their hands, find their name card and add it to the board to show they have arrived. As ever, staff are on hand to support any part of this process, while encouraging children to do as much as they can for themselves. Children can then get started with their choice of activity and staff will always help make suggestions or find things children are interested in doing.
Some children might have already had breakfast at Homerton in which case their parents / carers will have dropped them off at Breakfast club. Staff supervising Breakfast Club will take them to their classes. See Breakfast Club for more information about breakfast at Homerton.
During the session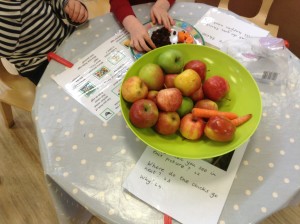 After all the children have arrived and settled, the door is opened so children can choose whether they want to play indoors or out. Children learn where everything is both indoors and out. They know what they want to play with and where it is kept. We keep things very accessible to all children so that they get very involved in their play, can chat with each other about what they are doing and practitioners can interact in ways that develop their learning.
There are many activities for children to get involved in; sand, water, play-dough, painting, books, making things, building constructions, games, puzzles, role-play, music and so on. As well as the resources that are always available teachers will observe what children are interested in and add new experiences to extend their learning.
Children are able to take part in preparing, or simply help themselves, to a healthy snack during the morning. They can help themselves to water at any time and can use the toilets which are inside their classroom.
Any session might involve a trip to our Old Orchard, a visit to the allotment or the park, a music session with our specialist music teacher Rachel, cooking, planting or some other different activity.
Tidy up time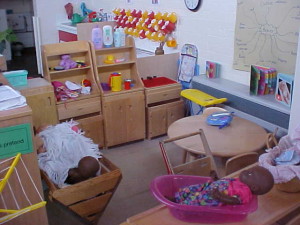 Children are encouraged to tidy up, everyone does this together both indoors and out. We find many opportunities for learning as children pack away their activities; sorting and classifying resources, counting to make sure a collection is complete, working together, listening to and giving instructions, looking at photos and labels to work out where to put things away.
Circle time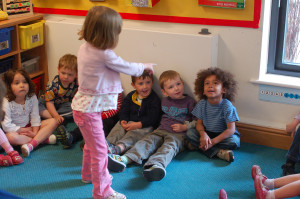 'Circle Time' is a time when all the children in their class come together as a group for a whole class activity. Sometimes this might be a story and songs, sometimes we are celebrating a birthday or festival, sometimes we play counting games or listening activities or maybe even plant something together. This is also a lovely opportunity for us hear from an individual child about something special that has happened for them. Children enjoy these times when they can sit alongside their friends and share things altogether. Children in our morning class (South) go home at the end of circle time.
Lunch time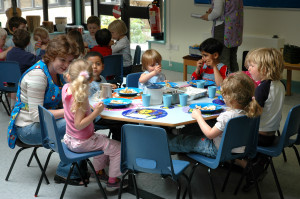 Children staying for lunch have a hot lunch cooked on site by our chef. The menu can be seen on classroom windows and dietary needs are catered for. Lunch might be in the classroom or in a room that we call 'Rainbow Room' and children sit in small family groups with a lunch time supervisor serving them food and helping them. Lunch is a lovely social time and as well as enjoying food together we chat together and have a play either inside or outside before the afternoon session begins.
After their lunch time play children might share a story, have a rest or watch a short, carefully selected children's story which may be linked to the day's activities.
Owlets
Some children stay on after their afternoon session, see Owlets for information about their tea and play time.