What to expect, when?
We follow the Early Years Foundation Stage Framework (EYFS) which sets out the learning and development stages for children as they grow from birth to five years.
The purpose of the booklet below is to help you as parents find out more about how your child is learning and developing during their first five years, in relation to the EYFS.
Children develop more rapidly during the first five years of their lives than at any other time. This booklet has been written to help you know what to expect during these vitally important years by focusing on the seven areas of learning and development which are covered in the EYFS.
In the guide, your child's first five years have been divided up into six age bands which overlap. This is because every child is different and children do not grow and develop at the same rate. It highlights what you might notice your child doing at these points. Children learn and develop through playing, exploring, being active, creative and being asked questions to help their thinking.
After each age band the booklet gives you an example of some ideas and tips as to how you can help your child's learning and development. Page 34 details where you can find out more.
As you know, being a parent is very special and amazing as you watch your child grow up. It can also have challenges. The booklet will help you to know how your child is developing by highlighting what to expect, remembering that all children are different. If you feel unsure about your child's learning and development you might want to speak to us or a health professional, do not hesitate to ask if you would like to speak about your child.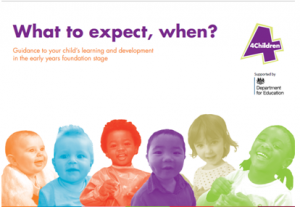 Download the guide to your child's learning and development in the early years foundation stage.
Physical Development
The British Heart Foundation National Centre on Physical Activity and Health have recently published a manifesto with figures showing that 91% of 2-4 year olds don't get the necessary 3 hours daily physical activity recommended by the Chief Medical Officer.
At Homerton we take advantage of our outdoor spaces to encourage and challenge the children to run, jump, climb, skip, hop, swing, throw balls and learn on their feet.
Raising Children Network has a webpage on physical activity for younger children which provides ideas that can be done home and is broken down into different stages of development. It gives suggestions such as using socks instead of balls if space is tight.
This article from Early Years on Learning through Physical Play reminds us of the link between physical development and intellectual development as well as why we provide the experiences we do.
This youtube link looks at the the connectivity of brain development, physical growth, nutirtion and health.